L'expression créatrice est l'écume de l'Âme...
Biographie
Florence Duet démarre une solide formation en dessin et peinture dans les années 2005, puis elle se spécialise dans la peinture au pastel. Un de ses portraits sera vendu à S.A.S. La Princesse Charlène de Monaco en octobre 2011.
Elle se passionne pour ce matériau qu'est la pierre : sa rugosité, son érosion, ses failles, ses incrustations, ses énergies…elle en joue, elle la sublime.
En octobre 2011 et 2016 une de ses sculptures sera sélectionnée pour être exposée au salon d'Automne à Paris.
En avril 2014 un de ses bronzes sera vendu aux enchères en présence de S.A.S. Le Prince Albert II de Monaco.
En 2014 et 2017 elle sera récompensée à Cannes, Salon International « Artistes du Monde » ou elle obtiendra le 1er Prix de sculpture. Elle y rencontrera Marina Picasso qui l'incitera à « continuer dans cette voie de la création ».
Elle expose à Monaco, Paris, Cannes, Saint-Tropez, puis à l'Etranger.
Florence Duet  started to seriously study drawing and painting in 2005, then specialised in pastel artwork. One of her portraits was later sold to H.S.H. Princess Charlene of Monaco in October 2011.
In 2008 Florence extended her artistic repertoire and took up stone sculpture.  Fascinated by this material - its ruggedness, weaknesses, incrustations, energy… she has great pleasure in exploring and sublimating its many facets.
In October 2011,2016 one of her sculptures was selected for exhibition at the Paris Autumn art fair.
Very aware of the condition of others, she is particularly happy to donate an artwork each year to a Charity organisation. In 2014 one of her bronzes was sold at a charity auction in the presence of H.S.H. Prince Albert II of Monaco.
In 2014,2017  Florence is awarded 1st prize in the Sculpture section at the Cannes International Art Fair « Artistes du Monde ». Here, her path meets Marina Picasso, who strongly encourages her to « continue in this creative direction ».
Florence exhibits in Monaco, Paris, Cannes, Saint-Tropez alongside other European countries.   
Formation
2010-2026

AUTODIDACTE MENTON, France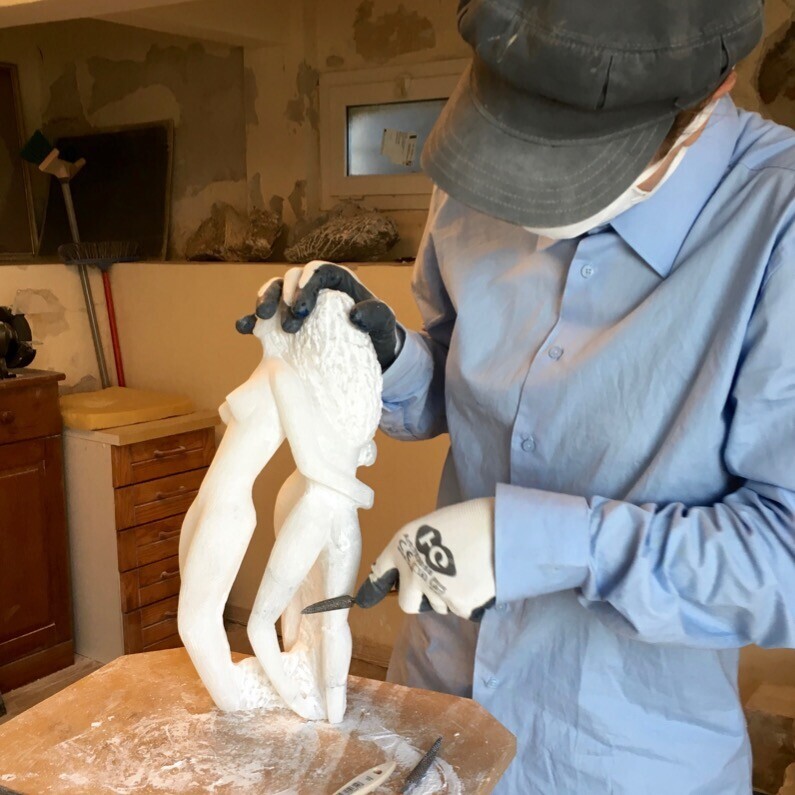 L'artiste au travail
Cote de l'artiste certifiée: Les travaux de Florence Duet ont été évalués par un expert indépendant.
---
Certification 2014 : 1 200,00 € (1 308,96 $US)
La certification a été établie par Jacques-Armand Akoun le 14 janv. 2014.
Télécharger Plus d'info
Prix et récompenses
---
2017 1er prix de sculpture ARTISTES DU MONDE à Cannes Cannes, France
2015 1er prix de sculpture Cannes, France